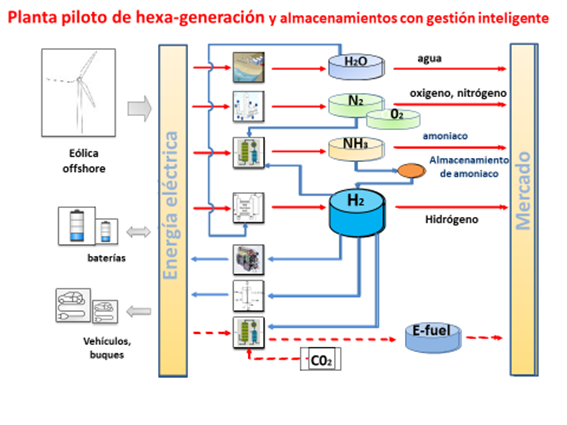 Professors Gabriel Winter and Antonio Pulido, who belong to the research group of Evolutionary Computing and Numerical Applications in Engineering (CEANI) of SIANI, have developed, in collaboration with the Oceanic Platform of Canary Islands(PLOCAN), a project proposal that provides solutions to the storage of renewable energies and aims to create up to 500 jobs", according to the newspaper El Día de Tenerife, as well as the printed edition of La Provincia of 30/05/2021.
Jacob Abdelfatah
The system consists of a hexageneration plant for water, oxygen, hydrogen, nitrogen, ammonia and electrical energy storage. It will have spaces at sea and on land and the generation of all products are obtained from sea water and air, operating with two 5 MW offshore wind turbines, which would be located in Jinamar, close to the Plocan facilities, and they would be in charge of capturing the energy for its subsequent generation into electrical energy. The surplus obtained would be "poured into the hexageneration plant," one desalinate water, two and three absorb oxygen and nitrogen from the air, where the latter is the most abundant gas and its isolation is simple; four, breaking water molecules (hydrolysis) to obtain hydrogen for its final consumption and, five, also for the manufacture of ammonia. The sixth possibility is the use of carbon dioxide from the nearby thermal power plant for the production of ecological fuels ".
This initiative, which counts with the cooperation of the proffessor of economics Lourdes Trujillo, has planned an investment of 18 million euros over 5 years, "aspires to create 500 jobs", between direct and indirect positions, and has been presented to the Ministry of Ecological Transition (MITECO), and has the support of the Island Council of Gran Canaria, the Las Palmas Port Authority and several companies to which the initiative has been exposed. The project is awakening great interest in many companies and sectors.
The project aims to reverse the decarbonisation of energy in various sectors, such as agriculture, transport (land, sea and air), the industrial sector, the tourism sector and the electricity sector. For this, the production of ammonia is a key factor of its achievement, since it is less expensive to store and transport than hydrogen.
Finally, the productivity of the plant will be optimized by a modular software, where from a stochastic source of renewable energy, a series of processes are associated, each one with its technical operating limitations, with its demand estimate, with its state of storage, the market price, and the operation of the plant as a whole is optimized. Maximizing any of these factors: economic benefits, grid stability, or environmental goals.
https://www.eldia.es/economia/2021/05/30/18-millones-euros-generar-seis-52408185.html